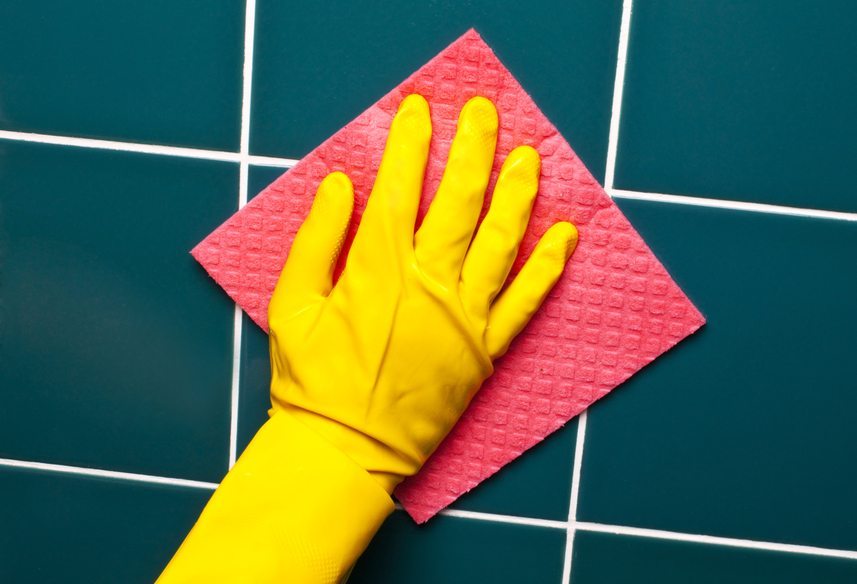 If you have tile in your home, whether it is a floor, shower wall or in the kitchen; chances are the grout will eventually look dirty or stained. The dirty grout can take away from the beauty of your tile. That dirty grout can be frustrating and hard to clean if you do not know the secret. Have no fear, help is here. Most of the time, grout becomes dirty because of grease or water based stains. The following steps will help guide you to a cleaner, new looking grout.
First, try this home remedy. Sweep the joints of the grout completely. Using a vacuum cleaner brush is a good way to get rid of any lose debris or dirt. Fill a bucket with warm water and use a rag dipped in the bucket of water to scrub the tiles and loosen any dirt that may have built up in the grout. Allow the area to dry completely. Once it is dry, make a solution of three parts baking soda to one part water in a bowl or bucket and make a paste. Spread the paste over top of the dirty grout with a putty knife or a plastic spatula. Allow it to sit there for at least one hour. After one hour, scrub the paste into the grout using a toothbrush. Hint: Scrubbing in a circular motion will lift the dirty build up easier. Rinse the paste with a rag and clean water. You will need to rinse the rag often to keep it clean. Once everything has been rinsed tap with a dry rag to remove any extra moisture. If you are still not satisfied with the look of the grout then mix a solution of 4 ounces oxygen bleach and one gallon of warm water. Again use a toothbrush and dip the toothbrush in the solution and scub the grout in a circular motion. Let the solution sit on the grout for 30 minutes to one hour. Rinse with clean water and a clean rag. Once all is rinsed blot dry with a dry rag.
If the home remedy does not meet your pleasure then try these steps. You will need sulfamic acid and a good quality wax stripper. You can find sulfamic acid at most home improvement stores and the wax stripper can be found at a janitorial supply store or stores such as Costco or Sams Club. You will want an alkaline based floor wax stripper. You must sweep the floor completely making sure to remove all loose dirt. Mop the floor with warm water and ammonia. For shower walls you will wipe the area first with a dry rag and then clean the area with an ammonia and water mixture using a clean rag. Mix the alkaline floor stripper in a bucket of warm water. Make sure you read the directions carefully. Apply a small amount of the solution to the grout and allow it to sit for a few minutes and then scrub in a circular motion with a toothbrush. Rinse the grout with plain warm water. Now you must mix the sulfamic acid solution. Follow the direction carefully. Apply this solution to the grout. Allow it to sit for a few minutes and then rinse with clean warm water. Allow the area to dry overnight. Seal the grout the next day with a penetrating sealer.
Call MARBLELIFE at (888) 524-3372 or visit us online to secure your FREE ESTIMATE at www.MARBLELIFE.com or to www.MARBLELIFEPRODUCTS.com to secure the care products appropriate to your surface, and your desire for an easy effective cleaning solution.