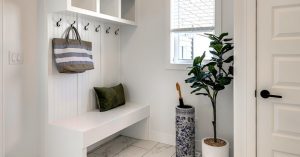 The spring rains are here, and that means there's a lot more opportunity for muddy feet to make their way into your home. Why not turn a boring entryway into a stylish and modern mudroom that will help you stay organized and help keep the rest of your home clean? Here are a few design tips to help you get there.
Incorporate ample built-in or freestanding storage. Shoes, sports equipment, backpacks, purses, briefcases, coats and umbrellas — these are just a few of the things your mudroom needs to house day in and day out. And that means you're going to need lots of storage in the form of cubbies, drawers, cabinets and coat hooks. You can, of course, hire a carpenter for a custom build-out. But if that's not in the budget, look for prefabricated pieces such as benches with built-in storage for boots and gear. You can find many options online or at big-box retailers. Modular units can give you a built-in feel by letting you tailor your storage to your needs and space. And by painting your walls to match storage pieces, you can fake the look of custom cabinetry.
Durable and cleanable flooring. You'll be tracking in mud and snow — and you want a floor to hold up to that abuse. Porcelain tile or natural stone can be a great option. Look for choices and finishes that have increased slip resistance. If you have an existing tile floor whose grout has seen better days, consider a MARBLELIFE® ColorSeal treatment to bring it back to bright white or change it to whatever color you like. Your new and improved grout will be easily cleanable and highly stain resistant. It's a fantastic solution for mudrooms and other heavy-use spaces. Vinyl flooring can be an economic alternative, but it has the potential to scuff. Treating it with MARBLELIFE's VinylGuard, however, reduces the potential for scuffing as well as the need for any buffing or periodic stripping.
High-quality floor mats. Sure, a decor mat that says "wipe your paws" is cute, but it isn't going to help you keep your floor from starting to blend in with the outdoors over time. A high-quality performance-designed floor mat can prevent your mudroom from living up to its namesake — by trapping the majority of dirt and grit before it has the opportunity to get tracked into your home. Knocking sand off your shoes is just the first step. If the sand is still on the surface of the mat, the next set of feet will pick it up and move it forward. Instead, if it falls into the mat, it cannot be tracked any further. The best desciption for these mats is a spaghetti mat.Indoor spaghetti mats with a closed back let you easily dump debris outside. Learn about the qualities you want to look for in a floor mat here.
We hope these tips inspire you to get yourself and your family organized by creating or updating your mudroom. Call your local MARBLELIFE® today to schedule a free in-home consultation for tile and grout cleaning, ColorSeal or VinylGuard to beautify your new and improved mudroom and give it the protection it needs to stand up to the elements.